Braces for Teens and Children
Everybody wants a great smile, and if your child or teenager has issues with crooked or cramped teeth, or unsightly gaps between their teeth, the time to act is now.
We offer your child or teenager a free orthodontic consultation with Dr. Stephen. Phone for an appointment, or email reception@meadowbankdental.co.nz.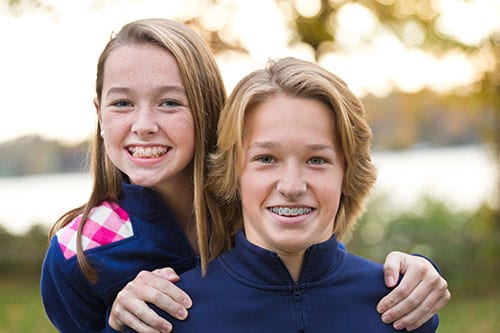 At Meadowbank Dental, we attend to orthodontic problems such as:
Crowding of teeth,
Gaps between teeth,
Overbite,
Impacted upper canines,
Openbite,
Deepbite,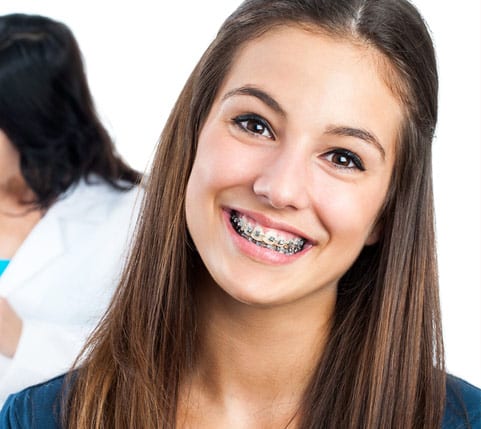 Braces for Teenagers
Teens used to dread the prospect of having to wear braces – it could mean years of being seen wearing thick and unsightly wire braces – but those days are gone. We offer a wide variety of modern orthodontic treatments including:
Invisalign® – a series of clear, removable aligners to straighten teeth without wires or brackets.
Braces for teens are commonly used to straighten crooked teeth or cramped teeth, leading to the creation of fabulous smiles. Around the age of 12 – 13 years most teenagers have all their adult teeth making this the best time to sort out many orthodontic problems.
The key to orthodontic success with teens is the relationship between the dentist and patient. We ensure both the parent and teenager are included in all discussions relating to the dental care of our teen patients.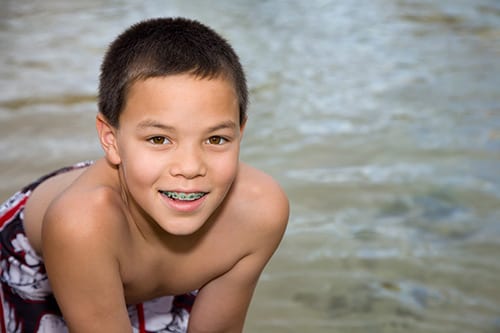 Braces for Children
Crooked teeth can develop very early in childhood. While few children will benefit from orthodontic braces treatment before all their adult teeth have developed, early treatment is important for some conditions to prevent damage to the adult teeth or to limit the effects of a developing growth problem.
Orthodontic growth appliance treatment along with myofunctional therapy can be beneficial for growing children to minimise long term problems.
If you have any concerns about your child's teeth – whatever their age – book them in for an orthodontic examination. We will recommend orthodontic treatment for children only when we believe there will be a definite benefit to the child. If treatment can be deferred until their adult teeth are in place, then that is what we may recommend.
Braces for Teenagers and Children – FAQs
Many parents worry about the development of their children's teeth. Here are answers to some of the commonly asked questions about braces for kids and teens.
How do I know if my child or teen needs braces?
Ensure your teenager or child is regularly visiting a dentist. The dentist will, in the course of routine dental examinations, be able to tell if and when braces or other orthodontic treatment is required.
Here are some signs that a child is likely to benefit from braces:
Crowding, misplaced, or blocked-out teeth,
Unsightly gaps between teeth,
Jaws that shift or make sounds,
Biting the cheek or roof of the mouth,
Teeth that meet abnormally or not at all,
Difficulty with chewing or biting,
Jaws and teeth that are out of proportion to the rest of the face.
If you have any concerns at all about your child's teeth, bring them into Meadowbank Dental for a free consultation with our orthodontic consultant, and we will assess their dental needs and, if necessary recommend an orthodontic treatment.
When is the best time for my child or teen to be assessed for braces?
The best time for assessment is whenever you or your dentist feels there is a problem.
For most children, a first assessment by an orthodontist should be when they are around 6 – 7 years of age. This is because that is the age when your child's first adult teeth appear and when some of the more important problems of dental development can require treatment.
For a teenager, around 12 – 13 years of age. This is when most teens have all their adult teeth and any dental issues become more apparent.
Any time you feel you have a concern with the teeth of your teenager or child, bring them into Meadowbank Dental for a free consultation with our orthodontic consultant, and we will check their teeth formation.
How long will my child or teen have to wear braces?
Braces for young children usually lasts less than one year. Having braces in childhood can shorten or simplify future orthodontic treatment.
For teenagers the time can be a little longer depending on the treatment. The great news, is that the technology surrounding braces has developed over the years. Braces are not as obvious as they once were and, in some treatments, clear braces can be used.
What causes the need for my child or teenager to have to wear braces?
Braces are required because of improper development of teeth and jaws. That most common reason for this is genetic. In other words, the orthodontic problems of your child or teen were inherited. There can be other environmental causes such as, thumb or finger-sucking, dental decay, or accidents. Incorrect breathing or myofunctional habits can also cause teeth alignment problems.
At Meadowbank Dental, we believe the most important thing is not how your child developed a crooked smile; the most important thing is what we can do to make that smile fabulous and healthy!