Crowns are natural looking tooth shaped caps which fit over your teeth to provide them with beauty and strength. They are made out of porcelain ceramic which may be reinforced for added strength. Crowns can now be completed in a single visit due to advanced CEREC technology.
Teeth with large fillings, root canals or cracks are weak and can break when you bite and chew. A crown will protect these teeth from fracture and help prevent problems in the future.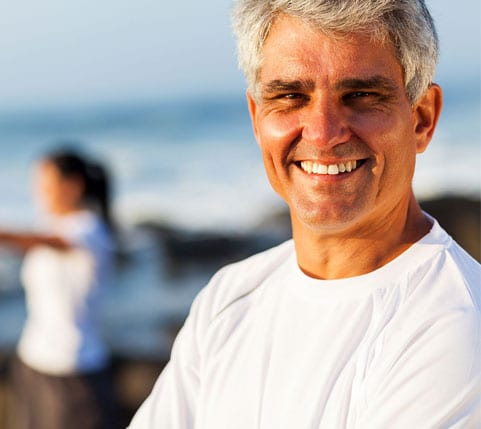 Inlay / Onlay
When a tooth is too damaged to support a composite filling but not damaged enough for a full coverage crown, the conservative approach is to use an inlay or onlay. If you cap a damaged tooth unnecessarily with a crown, it removes healthy enamel. A large dental filling can weaken the remaining structure of the tooth, causing the tooth to break or crack and this could eventually result in a root canal.
Ceramic inlays and onlays are the same kind of restoration, but they cover different proportions of the tooth. A dental inlay fills the space like a jigsaw puzzle, enabling us to only take away what is necessary. The dental onlay works like an inlay but covers one or more cusps or the entire biting surface of the tooth but still keeps some natural enamel for extra strength. Inlay/Onlays can also be completed in a single visit due to advanced CEREC technology.
Research has shown that bonding an inlay/onlay to natural enamel strengthens the tooth structure.

Teeth whitening is an effective procedure to remove staining to enable discoloured teeth to look whiter, giving you a beautiful sparkling smile. It poses no harm to your teeth or gums if done properly by a trained professional.
We offer two different procedures for the whitening of your teeth.


Veneers are thin, custom made ceramics restorations that are permanently bonded to the front surface of teeth. They can transform teeth that are broken, chipped, stained, have large gaps between them, and in some instances, crooked teeth.
Veneers improve the colour and shape of teeth, and give a spectacular lift to your smile. They are also highly resistant to staining. Veneers can be used when teeth whitening procedures are unable to restore their colour.